Last time I went into a little history about myself and what made Nintendo Power so special to me.  Now let's get into the magazine itself (download this pdf of the first issue [via Eoin Stanley] if you haven't already to follow along).
***
Opening Spread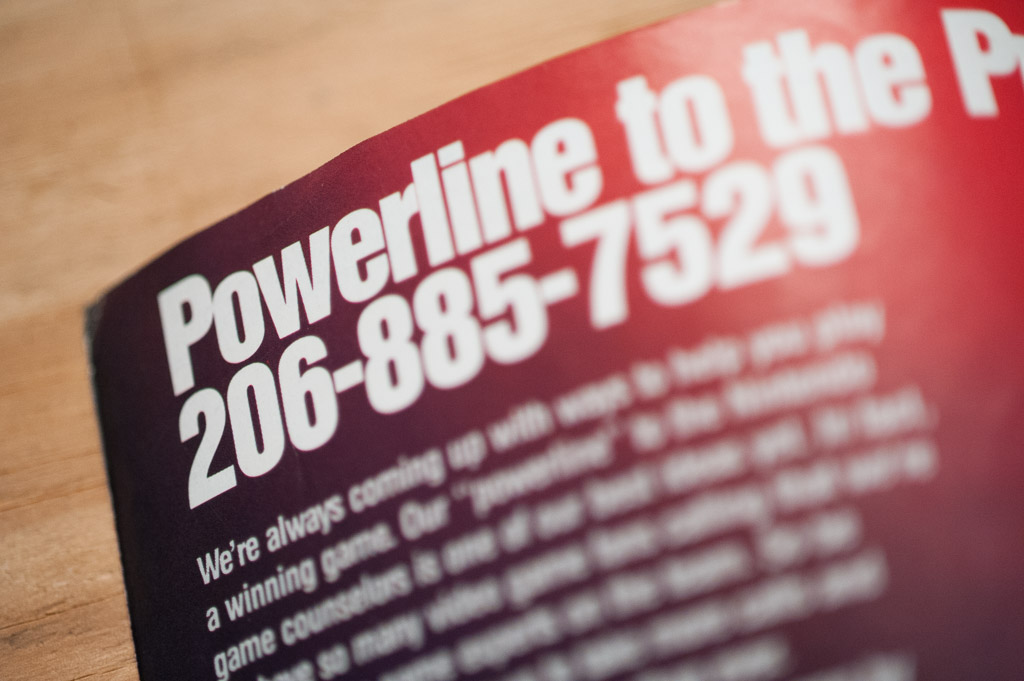 The first spread brings up something I know a lot of us young gamers did back then, whether you want to admit it or not—calling up a game tips hotline. Also note how the cover of the mag the girl is holding is different than the final version. I guess they hadn't done the final clay sculptures by then.
***
On the second page
"Nintendo Power is created by video game experts for video game enthusiasts…"
Wait, was being a video game expert a job? That people did? And people PAY you? Little Sam just discovered what he wanted to be when he grew up.
Actually… do you remember those business card vending machines that popped up in the 90s? Kind of like this one but not as fancy (and not as Japanese). There was one in a mall near me, so a friend and I, of course, had to get some to show everyone how good at gaming we were. I remember exactly what it said. Straight to the point:
Sam and [name of friend I'm not going to embarrass]
Gamepros
We were so cool back then.
***
Contents
Super Mario Bros. 2! Zelda's Second Quest! Double Dragon! Gauntlet! Contra!
I'll get back to these in part 3. For now let's head over to…
***
Counselors' Corner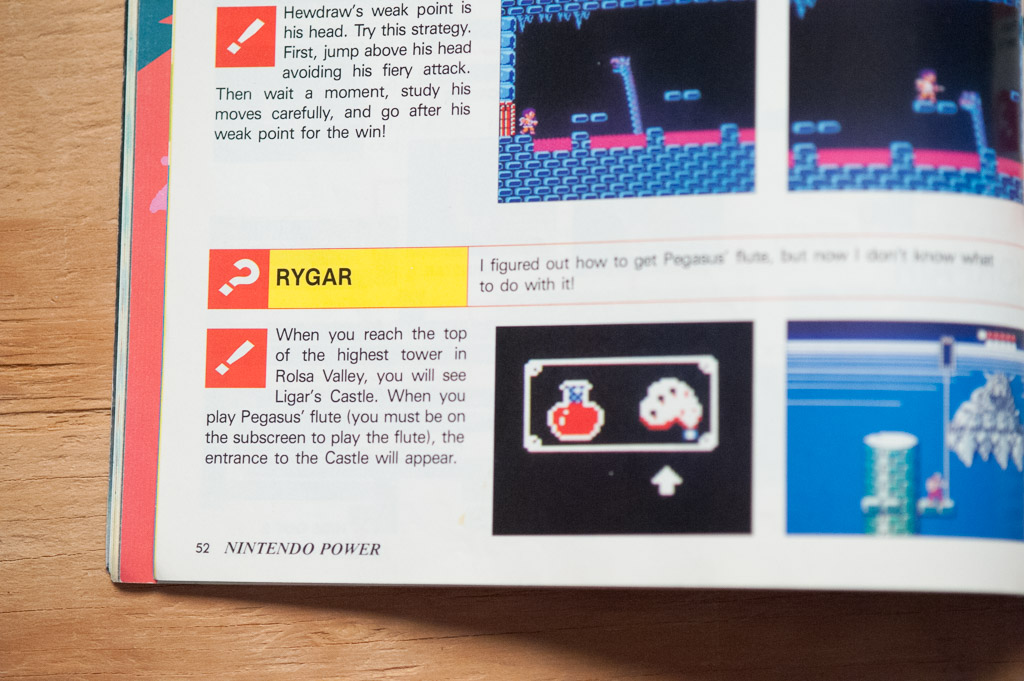 Counselors' Corner is one of those columns that I'm glad it was there, but I hardly ever used it, either because I didn't have the games they talked about (which was the majority of the time), or because I already knew what they were discussing because I was just that good, dammit!
But now that I see this, I'm missing the hell out of my lost copies of Rygar and Mike Tyson's Punch-Out!!.
***
Howard & Nester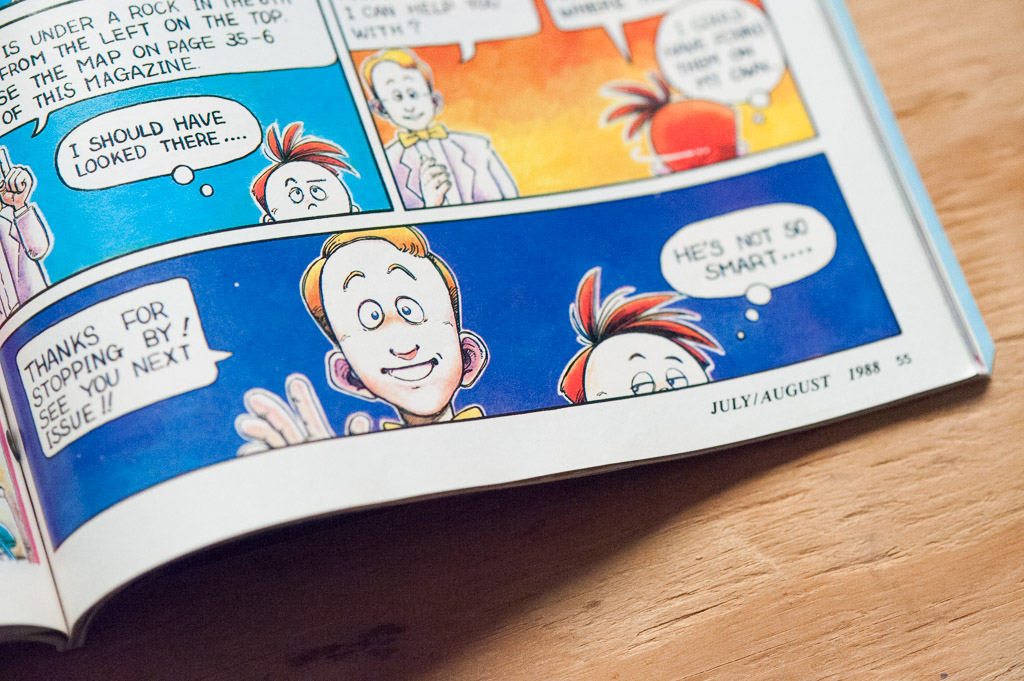 The Howard & Nester comic strips I didn't really read at the time. I just glossed over the pictures and moved on. I know; sacrilege! Apparently enough people loved these that they stuck around a while, though. (You can find every single Howard & Nester strip scanned right here, except the last one that'll hit you right in the feels, which is here). Comics weren't really my thing until my late high school and early college days, if I remember correctly (one of the aforementioned obsessions in Part 1). I still love comics now, and I appreciate these strips much more now than I did then. I was also ambivalent to the Zelda strip that came later based on A Link to the Past, but now, I'm looking forward to picking up the recently re-released collection.
***
Classified Information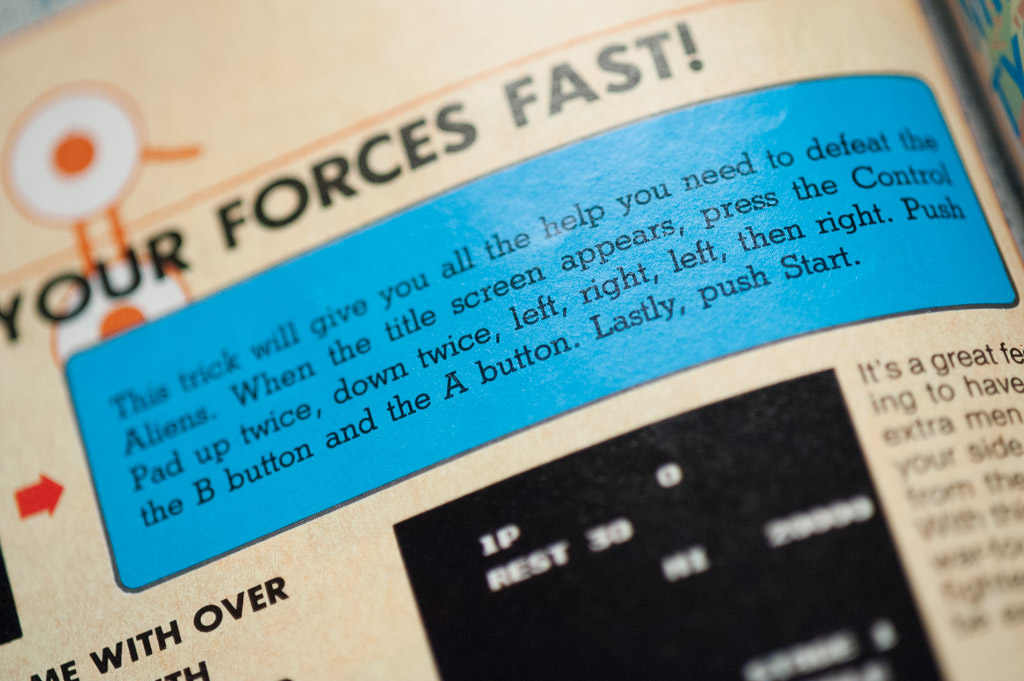 Two words: Konami Code.
Guys. Guys. This is a big deal.
Though the now legendary code was first used on Gradius released in 1986, Contra (released a year later) is the game it's discussed in reference to here, and the game that I most associate it with (and probably the first game I ever used it on). It's quite possible this is the first place I ever even heard of the Konami Code.
Classified Information was "…the place where programmers and pros reveal top-secret quirks and ultra techniques. Read them. Practice them. And astound your friends with your on-screen hocus pocus and cool tricks." Makes sense now that NP had the goods on game codes and cheats, since one of the agreements with licensees was Nintendo Power had first dibs on them. Classified Information was one of the first departments I flipped to in issues since.
"Have you found any hidden commands for "continue" or "invincibility" or anything else? If so, let us know!"
Finding a cheat no one had discovered yet and getting it published in Nintendo Power was a life goal for me back then. Alas, that never happened with NP. (But it did happen with GamePro! In the August, 1991 issue, to be exact. GamePro published a cheat I sent in for Gaiares for the Sega Genesis. This "cheat", unbeknownst to me at the time, was already published in the manual—the manual that I obviously didn't read—and apparently the GamePro editors didn't realize it either. Oops. But my name's still in the magazine, dangit!)
***
Baseball Round-Up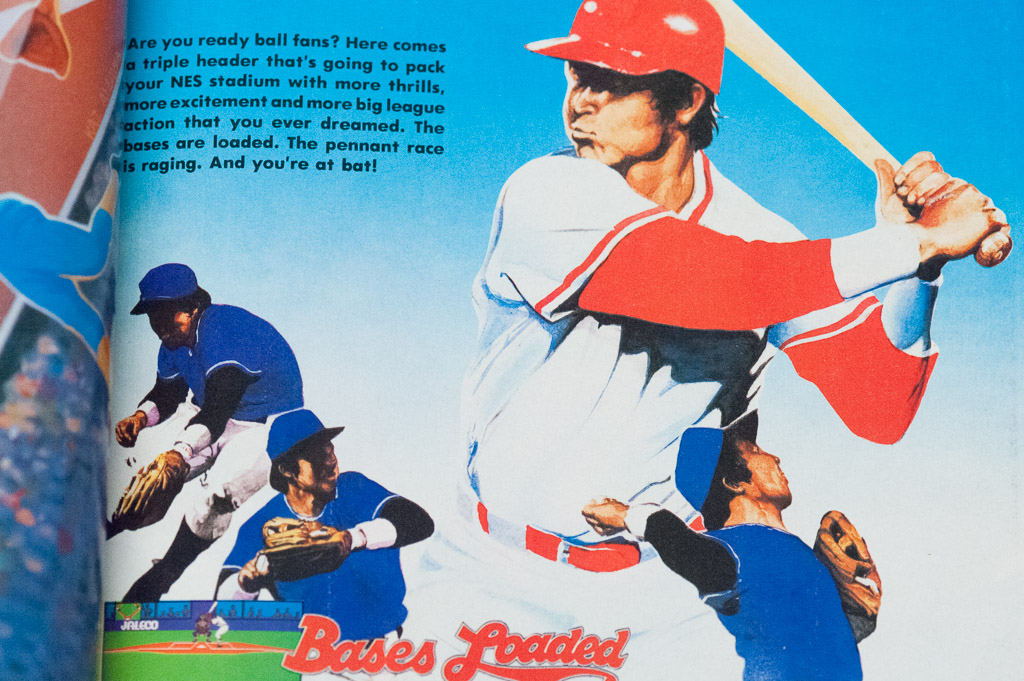 What are your thoughts on baseball video games, 9-year-old Sam?
What are your thoughts on baseball video games, 36-year-old Sam?
I'm not be the biggest sports fan in the world (although I think I could get into some of these), but I did enjoy the odd sports video game back then. Heck, if a game was good enough, I'd check it out no matter what it was about. By the time I had this issue of NP I at least had Ice Hockey, and that game had countless hours put into it (great game to play with friends!).
But baseball games…
overall…
…Meh.
…Meh.
***
NES Journal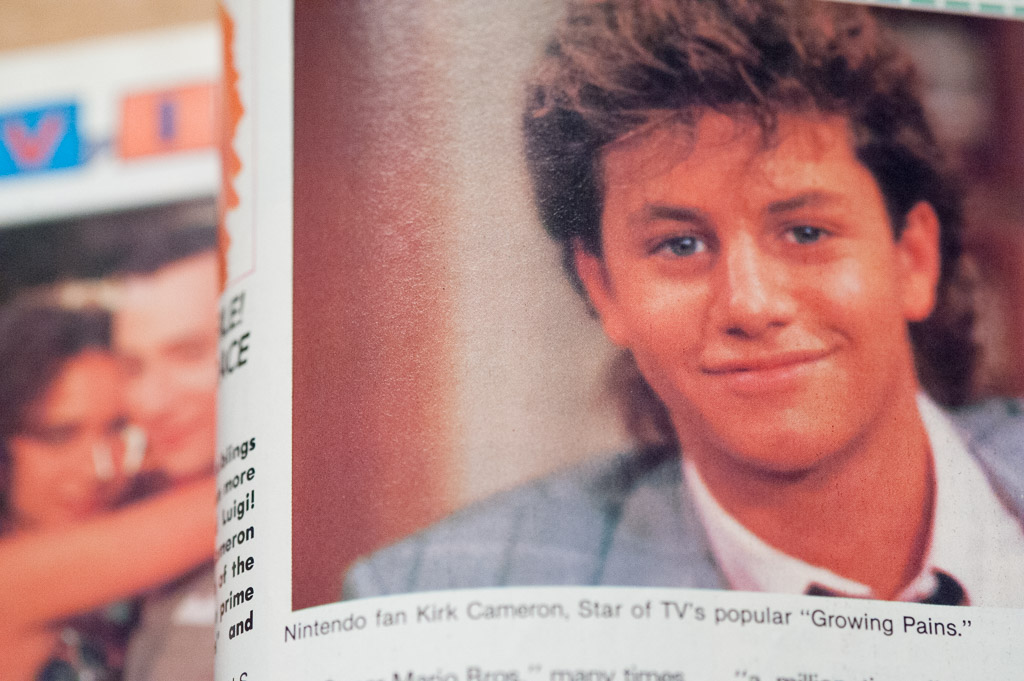 It's so weird to see Big Top Pee-Wee being talked about in the future tense!
Also, there's Kirk Cameron.
Moving on…
***
Mail Box
Here I present this letter, verbatim, by Bill Harrington:
"The game Rygar has some of the best graphics Nintendo has ever used. Besides this, the music and character interaction in this game are superb. The music is very appealing to the player and does not make he/she bored after lengthy play. To give a better sense of action in the game, the characters are animalized and have special, unique ways of moving around. There is also a wide variety of creatures so you don't get tired of the same ones over and over again. Another very good point to mention are teh different views in which Rygar, the main character, is shown. The two views used are the horizontal view, and the view of looking down from the helicopter. Usually a game has only one view of the character, but Rygar shows the intensity of combination. In conclusion, Rygar, to me, is one of the better graphic games put out for the NES and I would recommend it to anyone longing for action and adventure."
Oh how I miss you Rygar!
***
Player's Poll Contest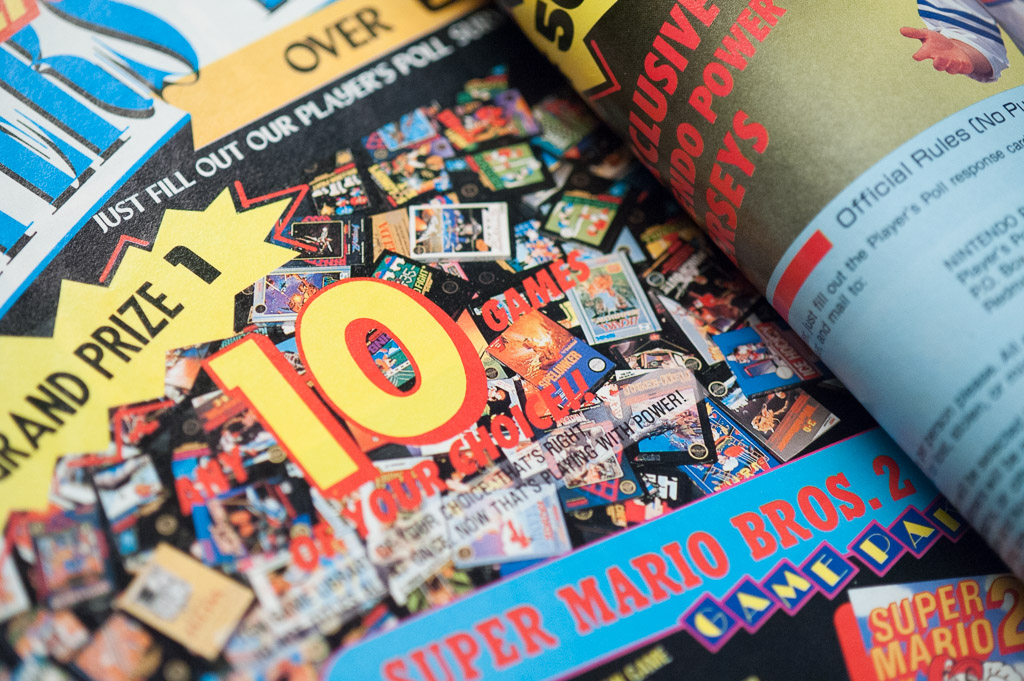 One thing you have to say about Nintendo Power: they had awesome contests. The grand prize this issue? "The game library of your choice. That's right, 10 hot titles all at once, now that's playing with power!"
You bet your pre-dropped left testicle it is!
Heck, I would've been happy with one of the Nintendo Power jerseys. But alas, it wasn't meant to be…
Next Monday: Video Spotlight, the Editor's Letter, and those beautiful gaming features.