Frequency at time of publication: Bi-annually
Editor-in-Chief/Publisher: Ricky Kim
Publisher: Jackie Linton
Creative Director: Lindsey Hornyak
Fashion Director: Priscilla Polley
Still published (as of this post)?: Yes
The last time I was at one of my local bookstores, I bought two fashion magazines I hadn't come across before. They're both great looking, well-produced mags, but opposite each other in their implied or implicitly stated underlying philosophies. I thought it would be fun (for me, anyway) if I reviewed the two back to back so you can compare and contrast. First let's take a look at the recently-founded Monrowe; next time, the giant coffee table magazine Exhibition.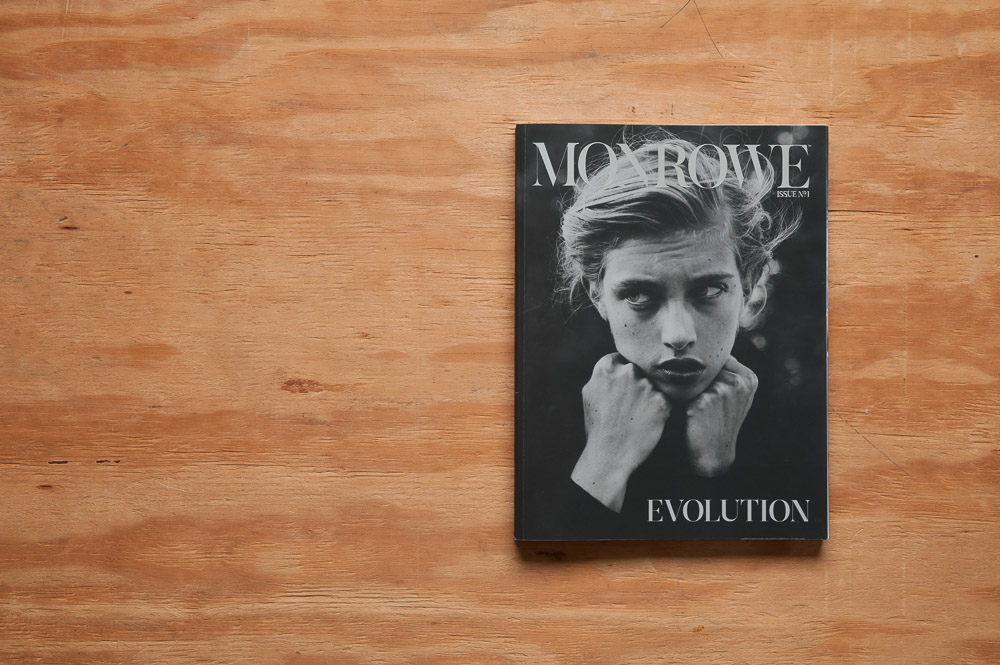 Monrowe is the result of a successful Kickstarter campaign by founder and publisher Ricky Kim. Through Monrowe, Kim seeks to "combine beauty and meaning" into a a one-stop shop for your thinking and emotional brains, where fashion and art are the vehicles for discussions of "psychology, social consciousness" and scholarly pursuits (Kim 11). An attractive idea, and certainly different than your typical fashion rag, discussing fashion for fashion's sake (which is cool too, by the way).
This inaugural issue is based around "Evolution", and the content sticks pretty well to the theme on multiple levels, from personal to global.
"Ad-Age" was particularly interesting in its examination of a brief history of fashion photography and its transformation from catalog-ey to story-telling art form. Along with the essay was presented Glen Luchford's photography of Amber Valletta for Prada's 1997 ad campaign, here as art, as part of the magazine's content, and not something you flip past as you're looking to get to the content. Cool to see. It's also nice to see all these ads here in one place, which gives you an even better sense of the cinematic feel of the images, which the essay talks about. You can almost feel a narrative forming.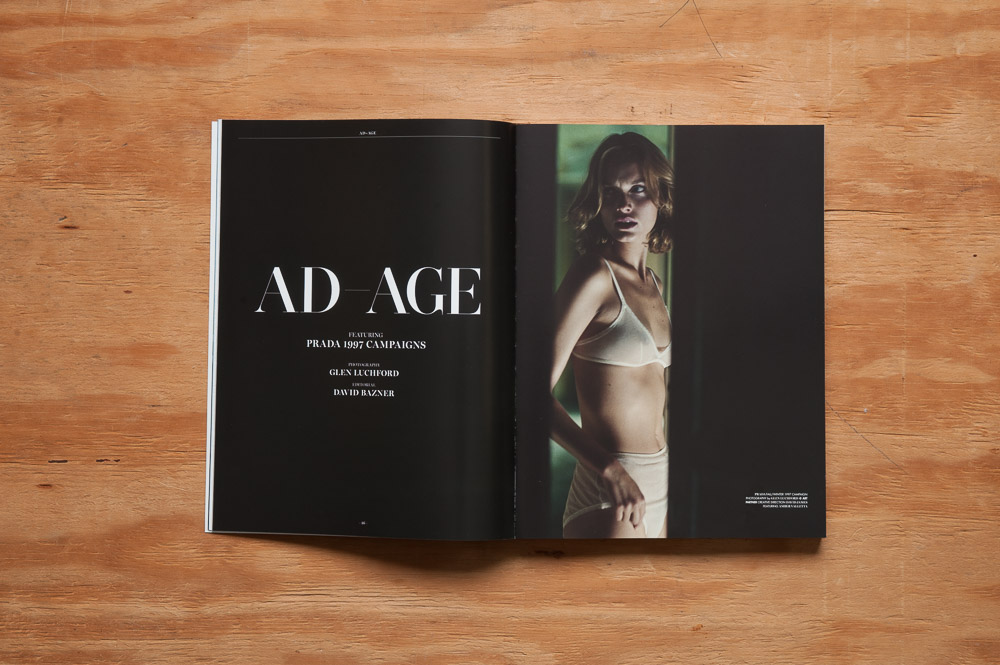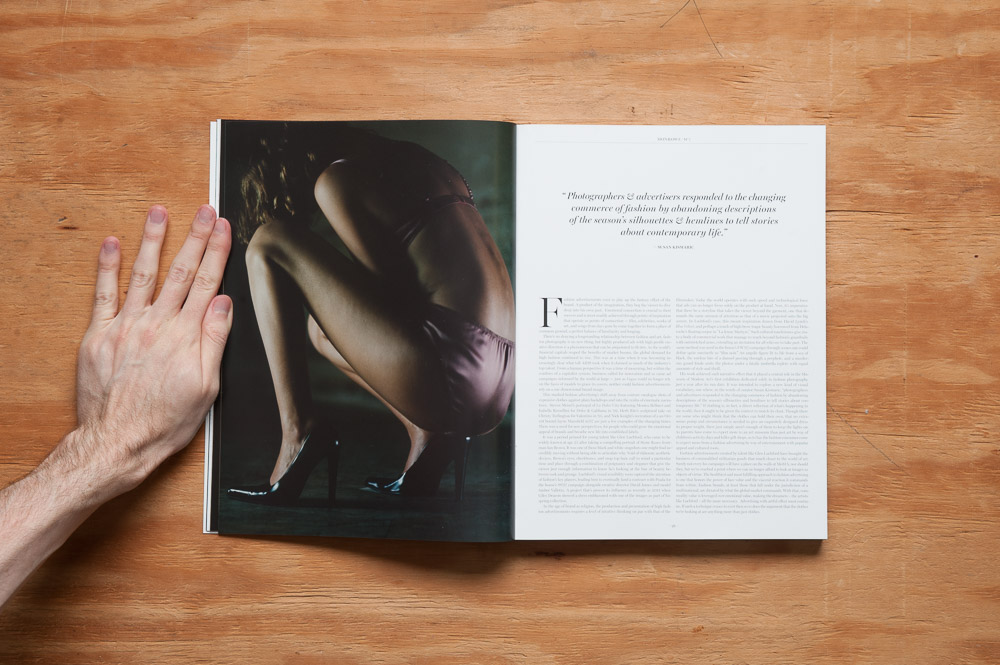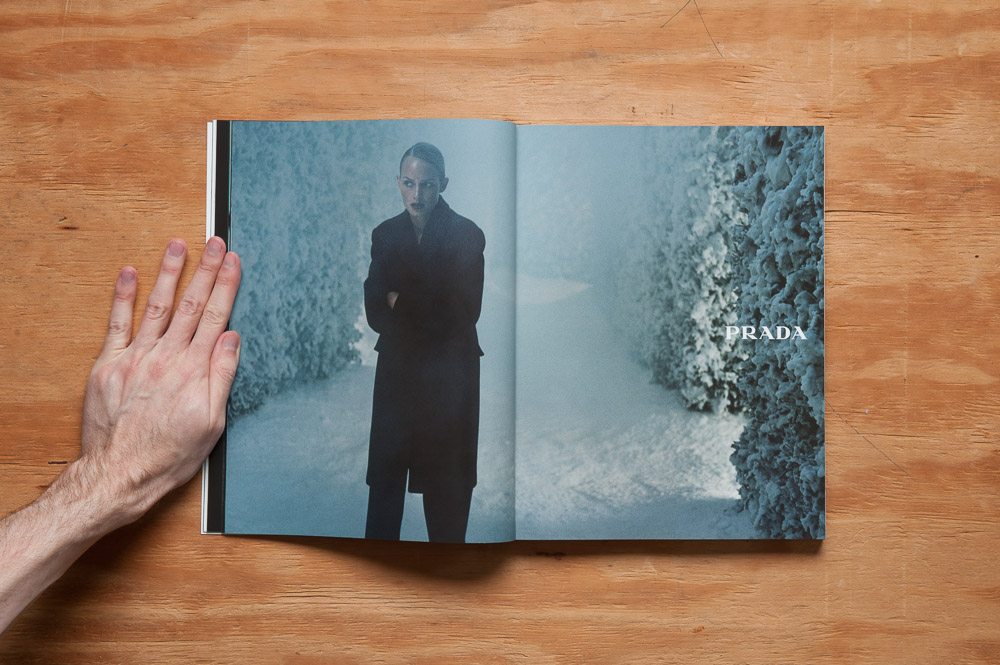 The best interview—and by "best" I possibly do mean "best" but definitely mean "my favorite" simply because I love his photography—is with Ralph Gibson. Some of what was said here I've heard before in his book Deus Ex Machina, but reading his thoughts from digital photography to getting out of your comfort zone to photography as a tool for introspection was an insightful treat.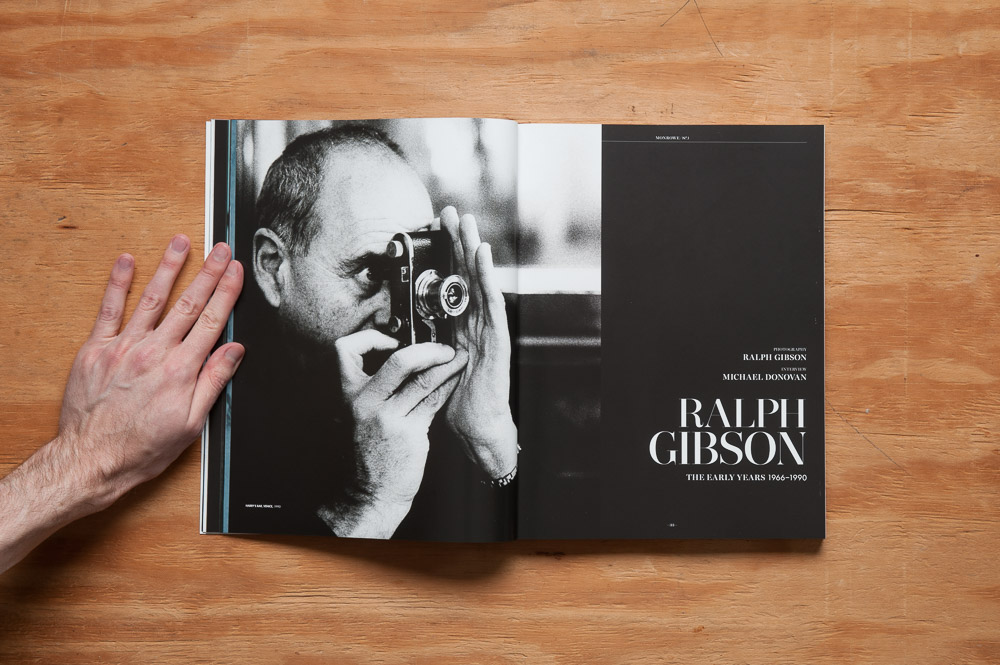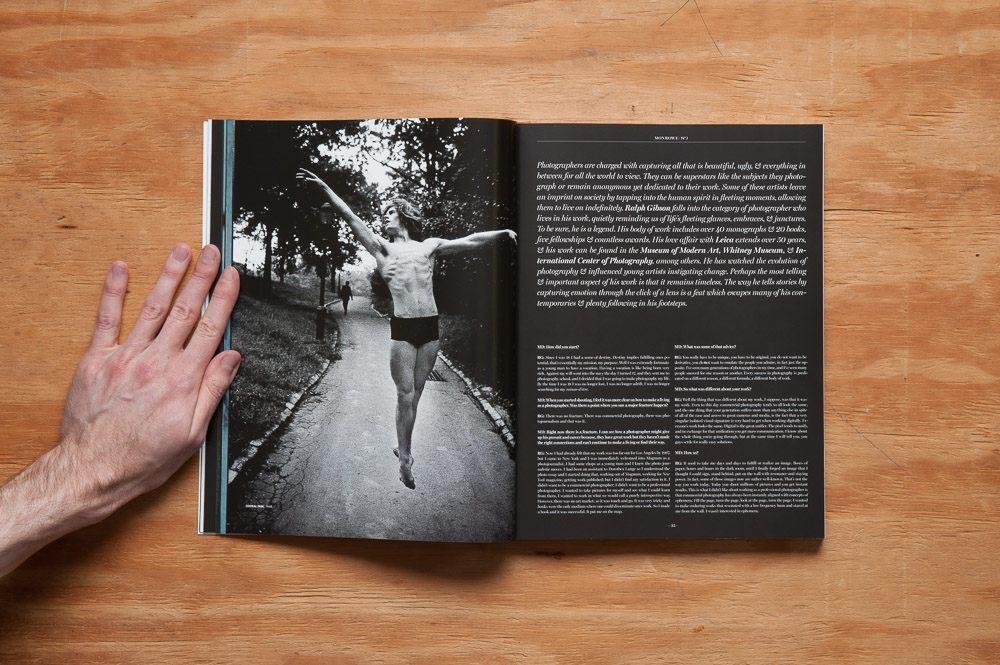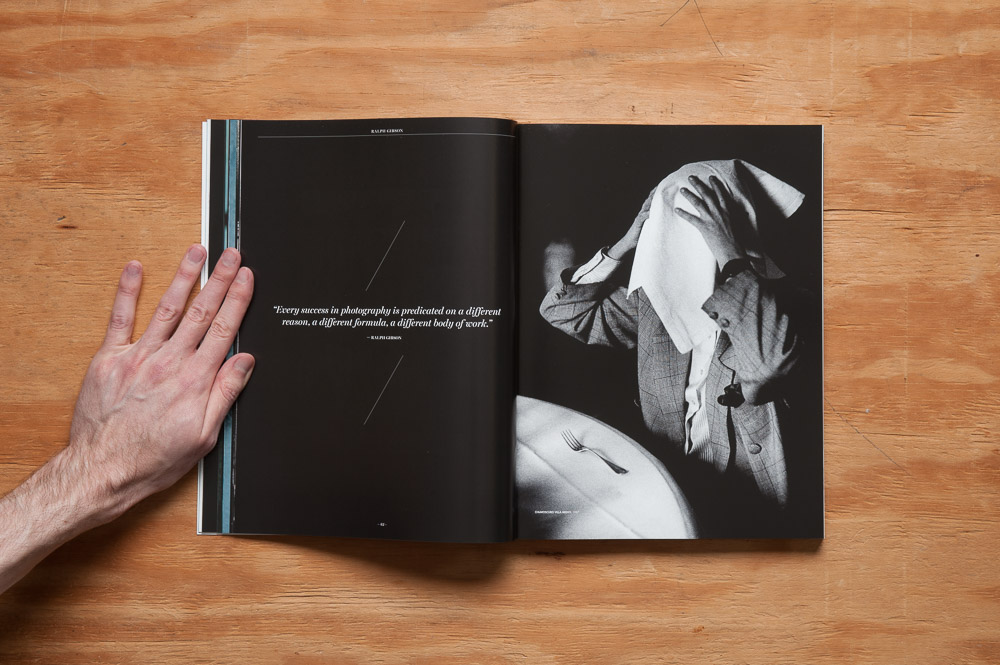 The crown jewel of the issue is the feature fashion editorial called "The Future People", which is actually a collection of four editorials (covering a whopping 90 pages of the 224 page mag). It starts with one question: how will the world change forty years from now? From that, how will the people be different? And finally, how will the clothing they wear and their attitudes towards it be different? After a brief discussion of the Earth of the future, the editorials are divided by groups of people, representing four different possible scenarios, with a short essay preceding each which attempts to answer these questions. For example, the first group is called the Alpha. They "live close to the land, connected to the pulse of the earth", and they "promote the use of natural, sustainable fibers and color-free dye" (Goblé 82). More detail is delved into regarding each group's culture and beliefs, and makes for an interesting combination of what-if scenario, fashion photography, and social advocacy.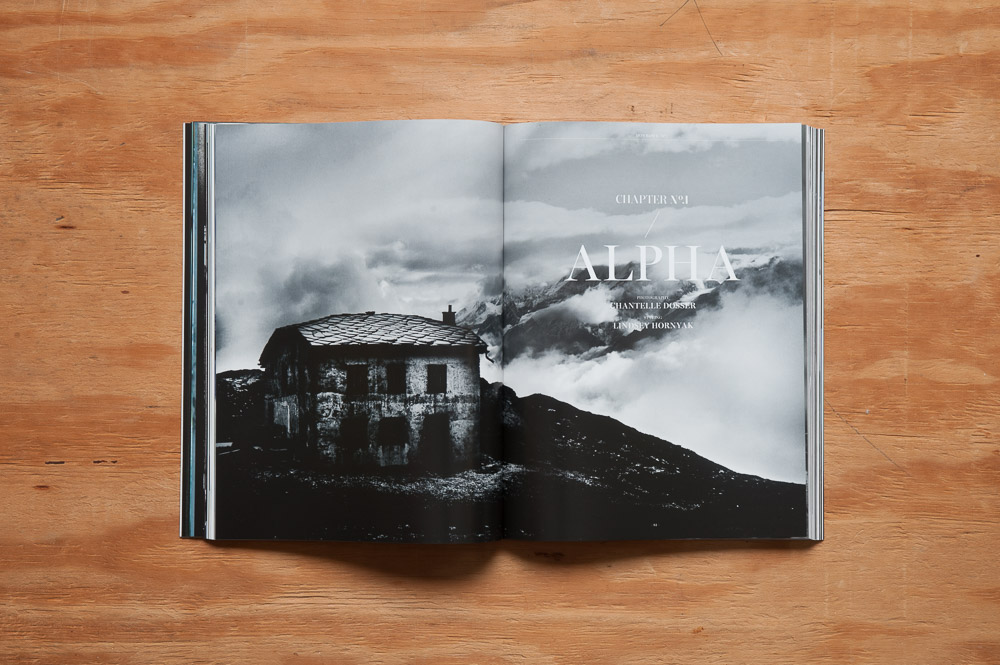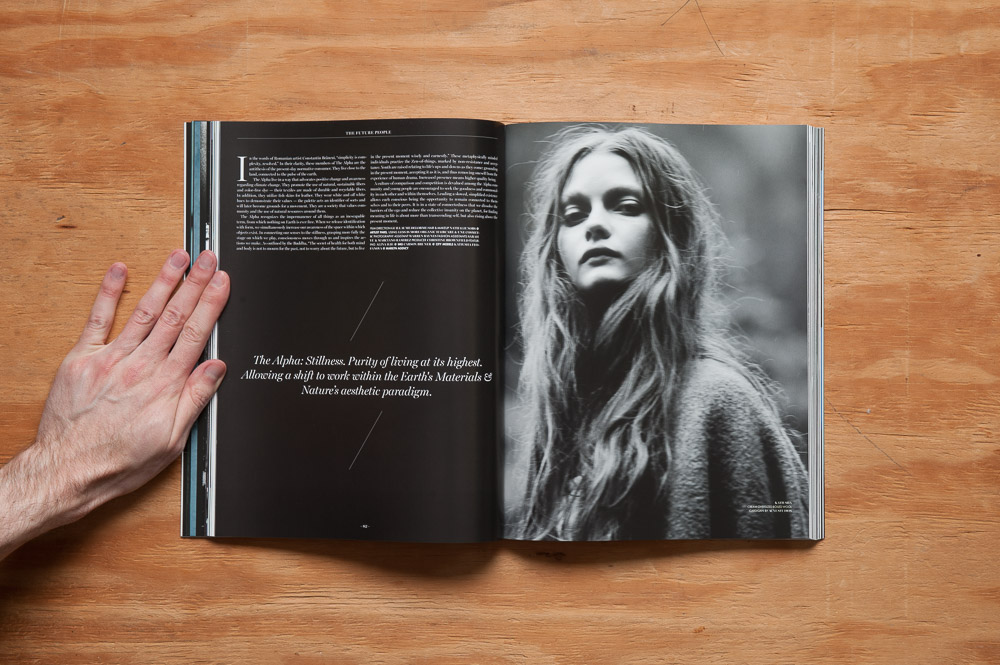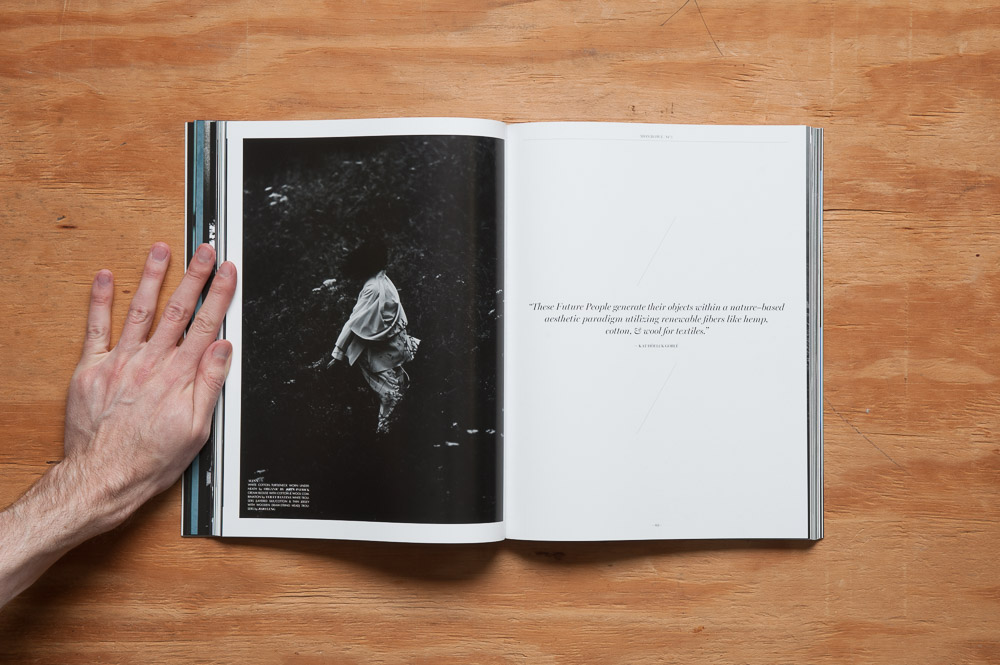 Here's some spreads from scenario number 4, "The Counsel".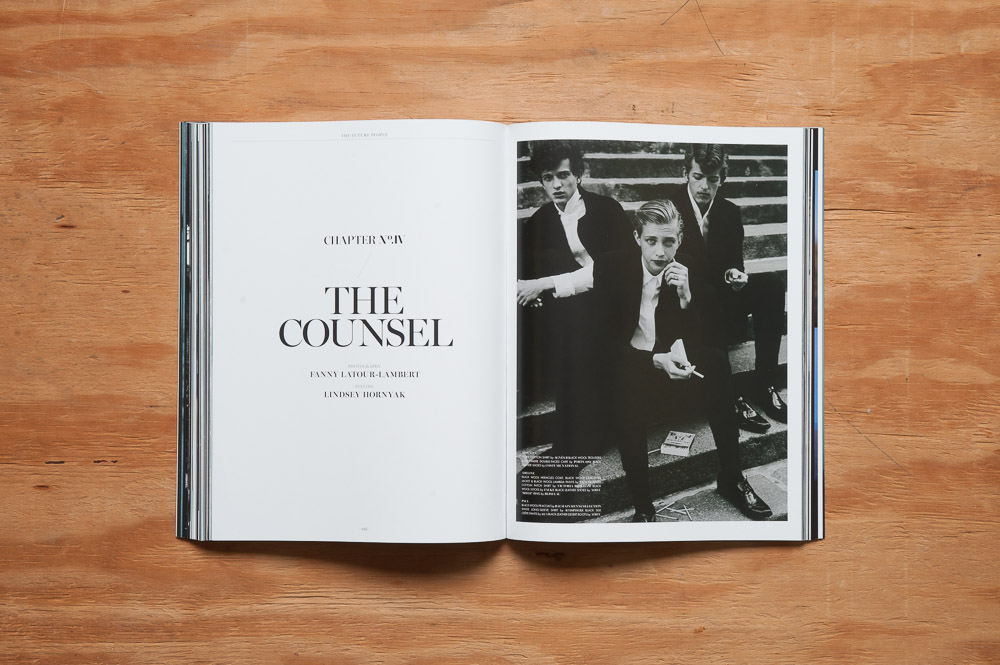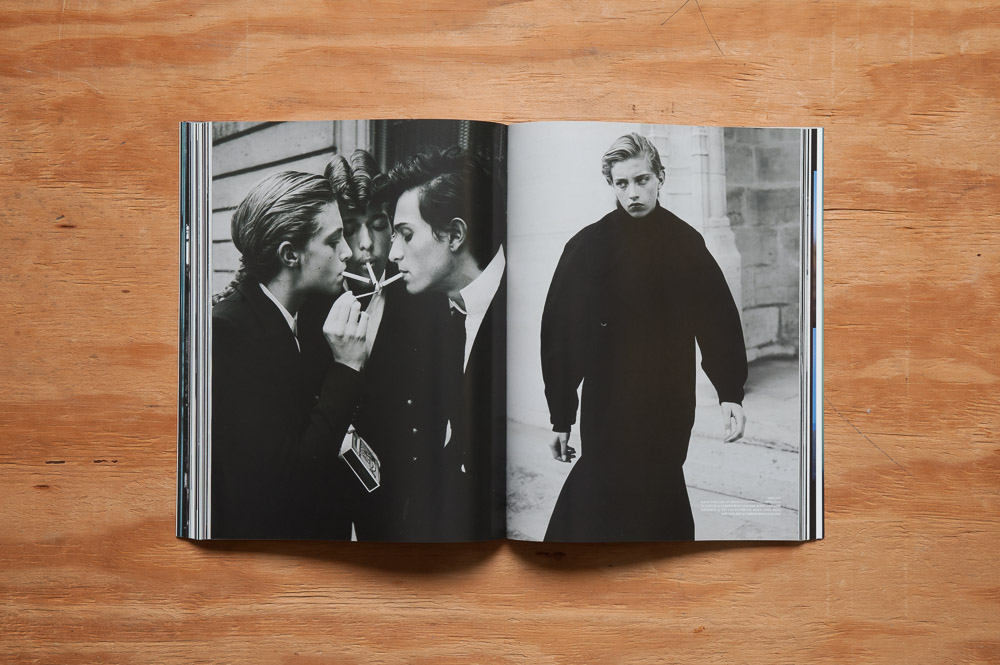 Another good example of "combining beauty and meaning" is with the poetry and editorial both titled "The Good Place". (Or I guess it's titled "I Am Love", and subtitled "The Good Place"?) Either way, it's clear that it was meant to "go" with the editorial that follows. While the poetry doesn't explicitly describe what may or may not be going on in the editorial (which I think is a good thing), after having read it, you can't help but think of a sort of implied narrative or backstory as you're viewing the images. It made me look at them differently, a little more deeply. I liked that.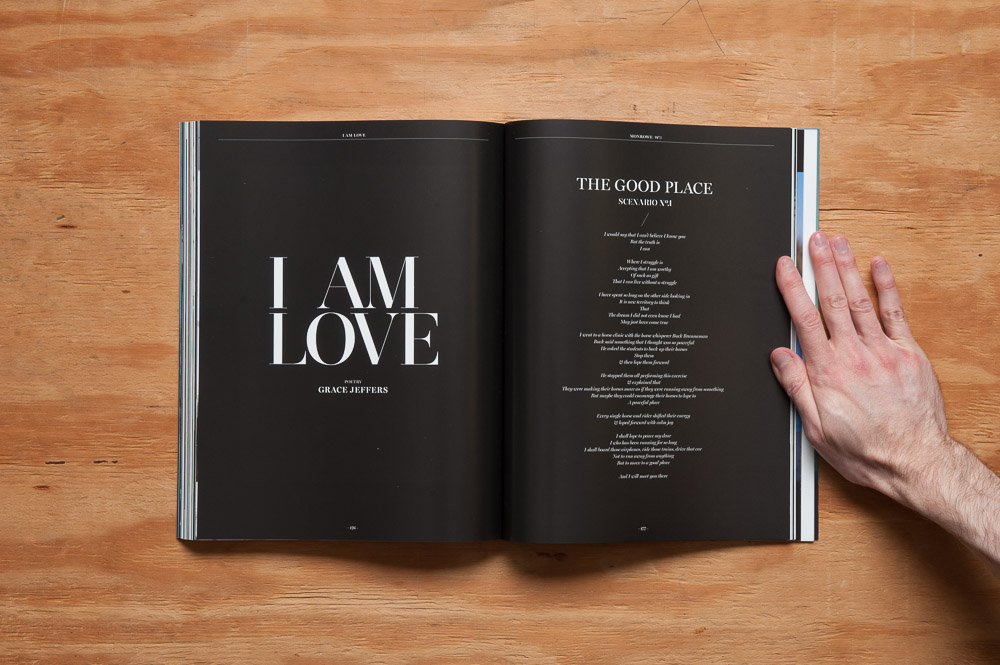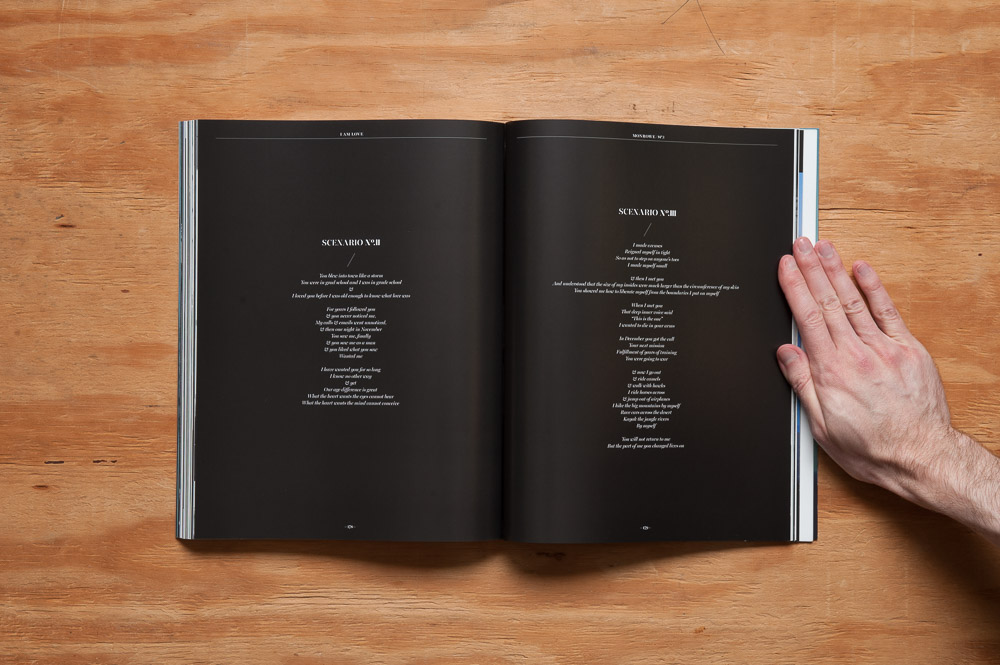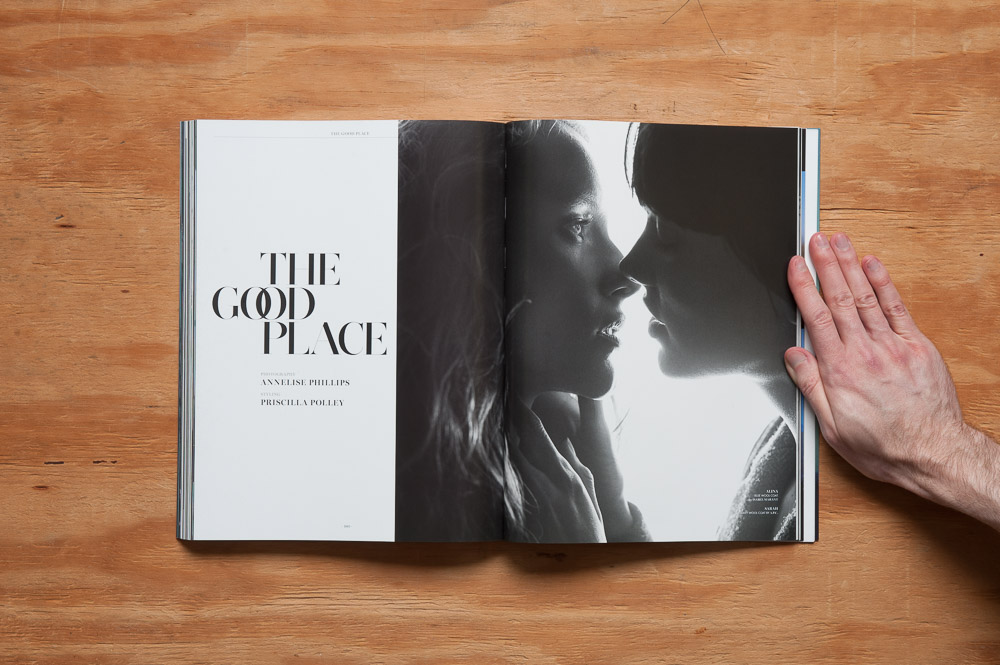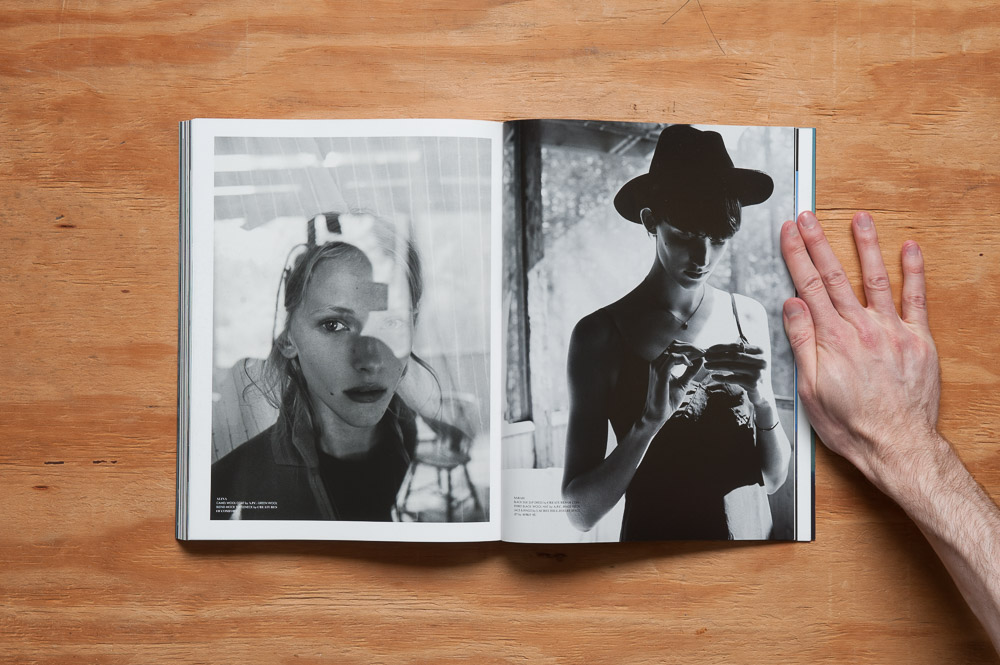 The only thing I'd consider a let-down on an otherwise great first issue is the essay "Kepler" by Marina Masic. The first time I read it was one of those experiences where you're pretty sure you just read sentences, but you have no idea what you read. Sometimes that happens with complex topics—I'm but a simple man, after all—so I read it a few more times. As best as I can understand, the essay (or at least part of it) can be summed up by one phrase: "You get what you give." Think positively or negatively, and good or bad things will come back to you, respectively. And I agree with that on a practical level. If you're thinking positively about a project, for example, you may be more likely to get that project done. But Masic tries to explain this scientifically. "At the core of any spiritual or scientific principle is the notion that energy exists and manifests in vibrations" (Masic 215). Well, according to the kinetic theory of matter, all things are composed of molecules that are in constant motion, so, okay. I wasn't sure what she was getting at in regards to spirituality, though. Reading on, she explains that thought-waves are "vessels of vibrations of the mind" and can influence "vibrations in the minds of other persons within their field of force," and that these "reverberations leave an impression on others, operating in atmospheric planes as well as in 'direct personal influence'" (Masic 215). I think my own thought-waves are making my head hurt just from reading this again. A person's mood influencing someone to a degree, sure, I could see that, but this pseudo-science Masic is selling, I ain't buying. It doesn't help matters that she quotes Dr. Norma J. Milanovich, a "messenger for the Ascended Masters regarding Earth's transition into the Fifth Dimension" above the main body of the article, which you can see in the second picture below. (Go right ahead and believe what you want, but if the highly-intelligent Arcturian alien race really does exist that Milanovich talks about in her books and elsewhere, I don't think they'd bother sharing their knowledge with us humans. They probably did build the Pyramids though. Just sayin'.)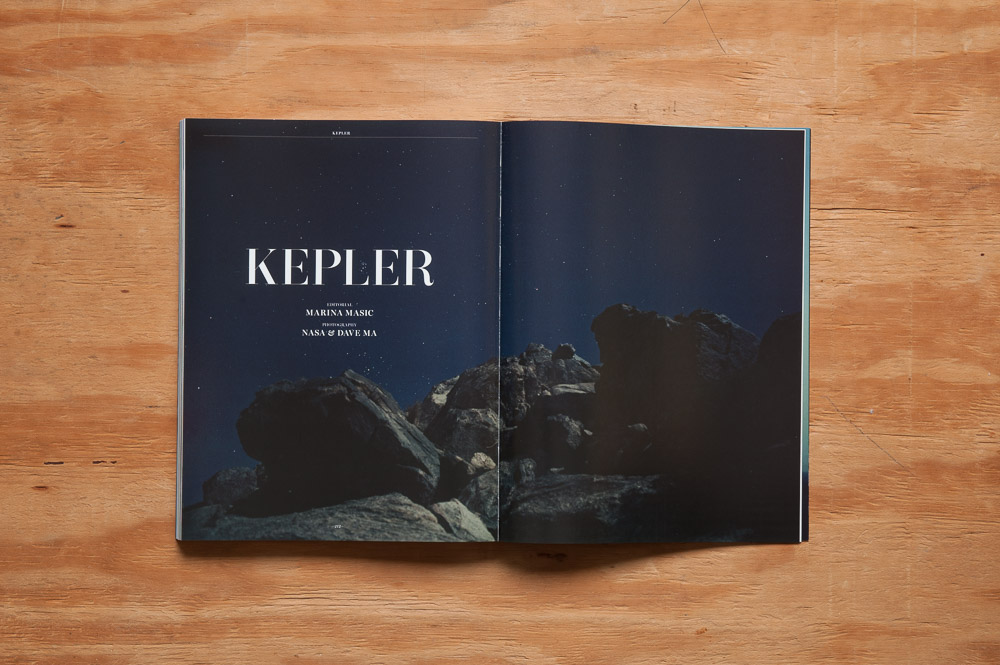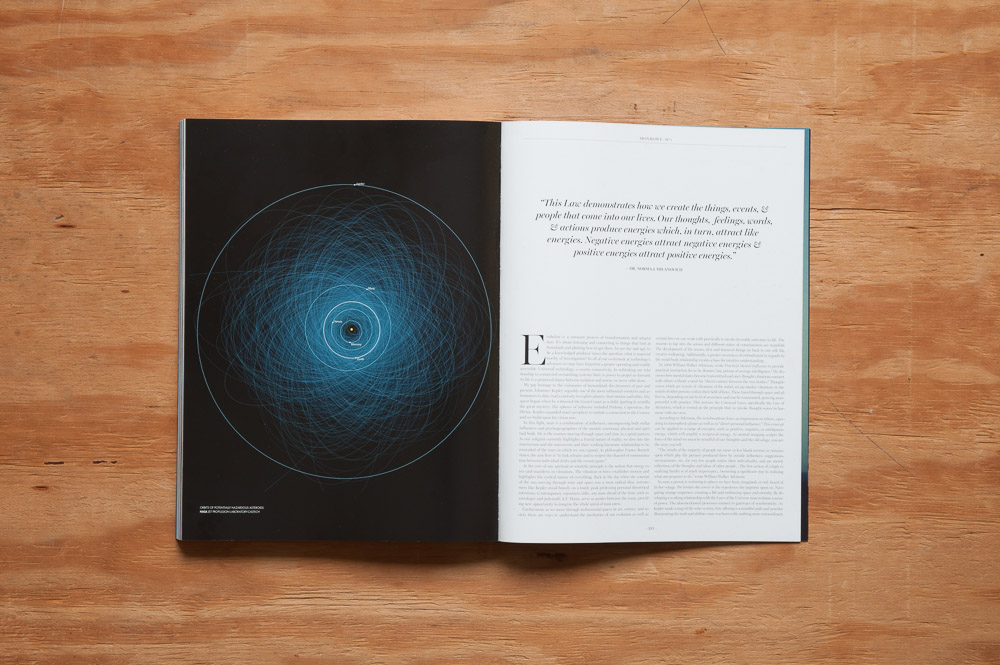 I went on about that last essay way too long, but suffice it to say, the essays and interviews in Monrowe range from the great to the so-so all the way to the WTF (thankfully that was just "Kepler"). There were some small issues, like some typos or keeping essays more on track at times, but I would overlook all this for a first issue. Putting a magazine together, especially one of this size, scope, and for the first time, is a massive undertaking, and hey, it's not like we haven't let mistakes slip through in L'Allure des Mots, either.
And I haven't even mentioned the production quality and design yet! To keep this review from going that much past one thousand words, I'll just say the design is attractive, the paper is a nice thick coated stock, and the cover has a silky matte lamination with metallic debossed lettering. It's pretty!
I'm excited for the possibilities with Monrowe, and I'll be looking for the next issue. Take a look at this one if you haven't already and support this fledgling publication. There's more positive than negative here. I absolutely appreciate what Monrowe is trying to do, just next time, I hope they keep the "science" out of it.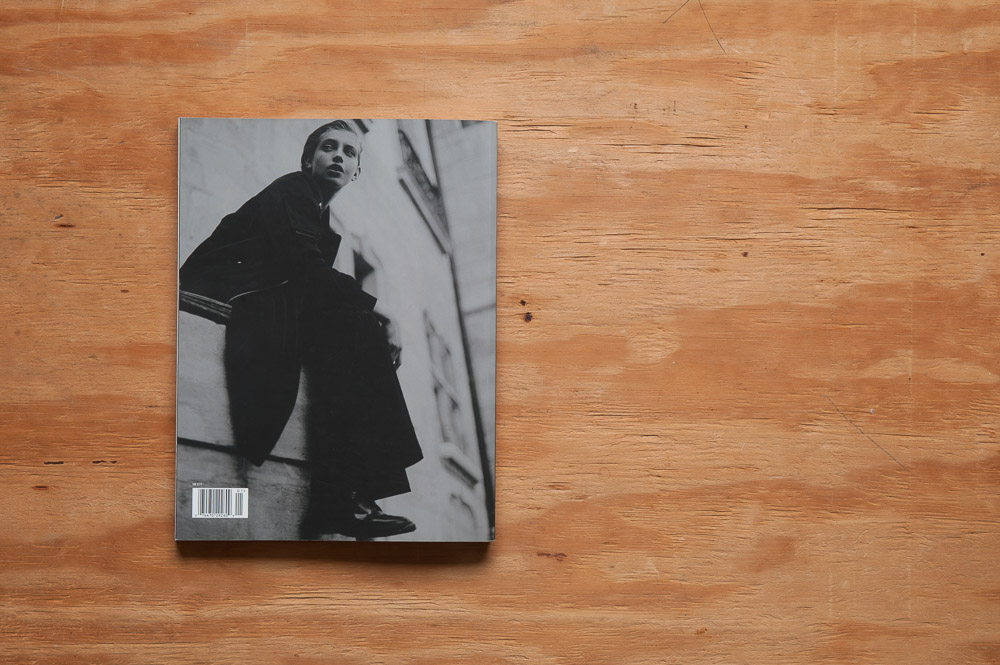 EDIT: Monrowe put up some of this issue's essays, interviews and editorials on their website after this post was written (including "Kepler"). Go check 'em out.

References

Kim, Ricky. Letter. Monrowe. Issue no.1. January 2015: 11. Print.
Goblé, Kat Höelck. Monrowe. Issue no. 1. January 2015: 82. Print.
Masic, Marina. Monrowe. Issue no. 1. January 2015: 215. Print.