As best I can recall, the first contact I ever had with anything Vampira was Plan 9 From Outer Space. As I talk about in a previous post, I used to watch a lot of bad movies. Still do, if they're the right kind of bad, which Plan 9 most certainly is. At the time I don't think I had any idea that this woman who looked like Morticia Addams with the crazy-small waist was special in any way (other than her crazy-small waist and wondering how all her parts fit in there).
Many of my interests come and go in phases, and within the past year have I've had a renewed interest in (or to be more accurate, a renewed mild obsession with) the horror genre and horror culture, which led me to revisit Vampira and ultimately read Vampira: Dark Goddess of Horror by W. Scott Poole. Now I don't ever plan to formally review books on this blog, but I will say that if you are at all curious about not only Vampira (and Maila Nurmi who played/lived her), but horror, feminism, and how all these things congealed within the bigger picture of the state of our country from it's post-war days until now, then this is the book for you. Indeed, this is the only book specifically about Nurmi and Vampira that I'm aware of. (Poole references another book that gives a broader history of horror—Monster Show: A Cultural History of Horror by David J. Skal—that's still on my reading list.)
Through Poole's book, my search for all things Vampira led me to the June 14, 1954 issue of Life Magazine.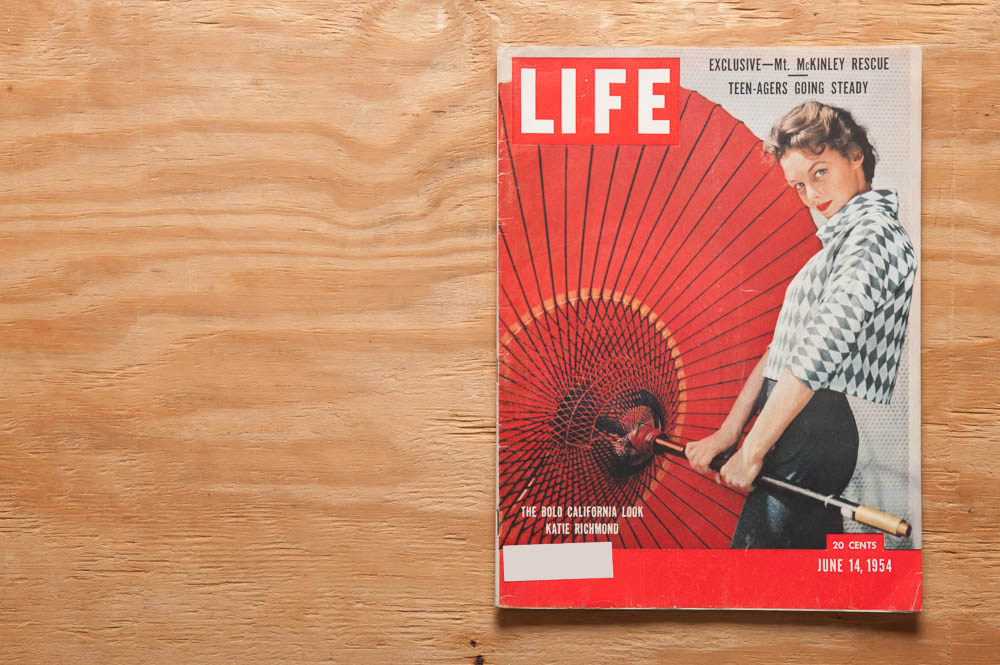 It's not a huge feature, but a significant one. She was already a local celebrity almost immediately after The Vampira Show debuted in April that year, but just three weeks later Newsweek ran a feature on her, and then the Life spread came soon after (Vampira and Me). These features and others that followed took the local-to-Los-Angeles Saturday night show and catapulted it (and Nurmi) onto a national stage, "triggering both a larger audience for the show and the first hints that Vampira would have an enduring cultural meaning" (Poole, 76).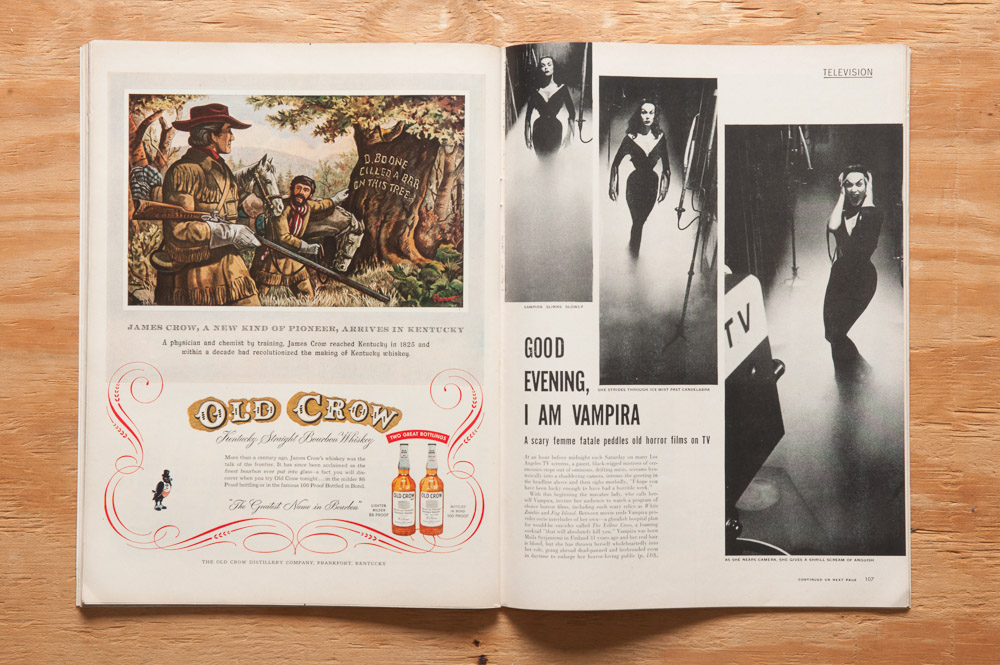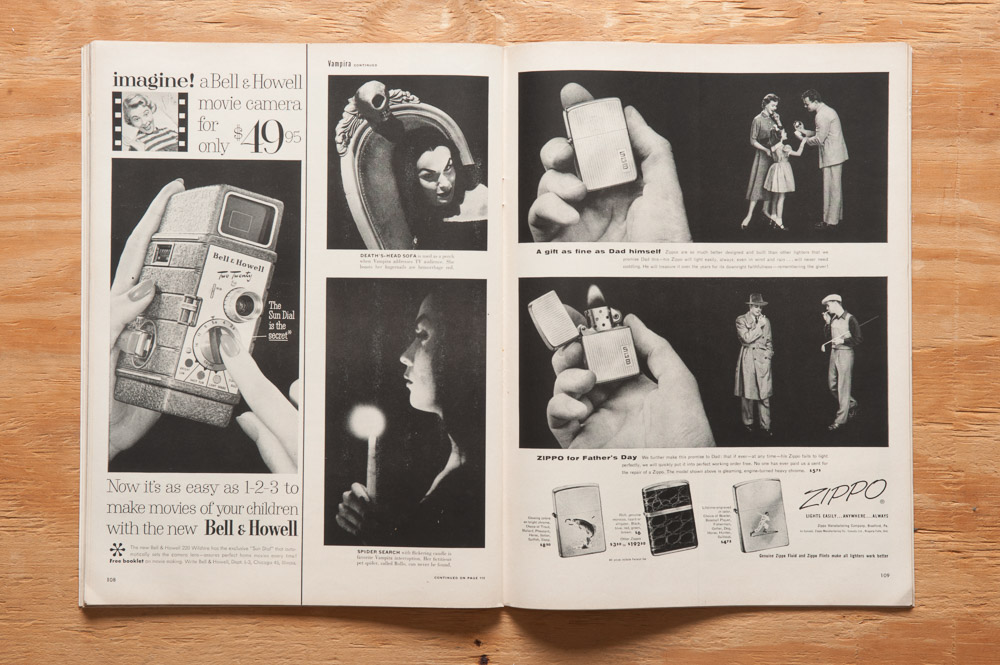 The photos were taken by photographer Dennis Stock. In his book, Poole says Stock, apparently a Vampira fan himself, was only 18 at the time of the shoot. However, Stock was born in 1928, so unless there's something I'm missing (time travel?), in 1954 he would have been 26. (And yes, I've checked that it is the same Dennis Stock. The photos he shot for the Life spread and others are here).
Speaking of Stock, regardless of his age, by 1954 he was already a member of Magnum Photos, a collective of the some of the best photojournalists working then and today (he joined Magnum in 1951). He had a prolific career, photographing many other celebrities (including James Dean, Nurmi's "fellow soldier", a "comrade in the revolution of culture") and iconic documentary photographs, working almost up until his death as photographer or teacher in 2010.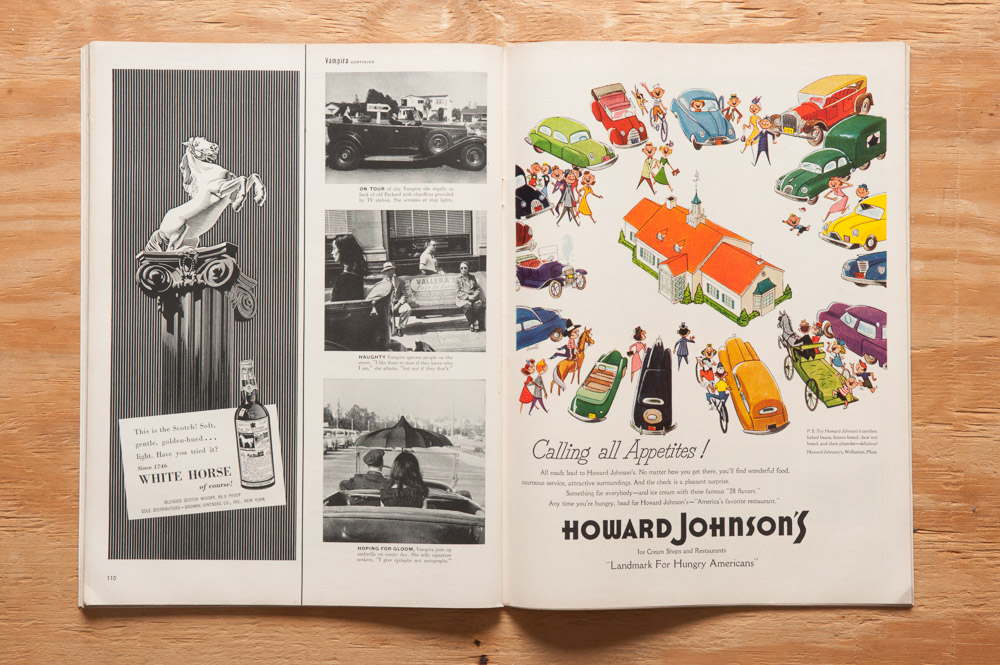 Part of Nurmi's contract with the Los Angeles ABC affiliate KABC involved public appearances. I'm not sure what the appearance seen in these three photos entailed, but I like to think she was just driven around all day looking "haughty" and fabulous. Many people welcomed the shakeup she brought to the status quo. Many did not. Nurmi as Vampira concocted a mixture of sex, death, and humor that no one at the time had ever seen before, including, I'm sure, the elderly gentleman and lady in the middle photo who don't seem to be very amused.
The national print publicity led to appearances on national television, further heightening Vampira's fame. (In this trailer for the documentary Vampira and Me, you can see a clip from the game show Place the Face, with host Bill Cullen thumbing through this very magazine before Vampira saunters onto the stage.)
In 1981, KHJ-TV, a rival station to KABC, sought to revive Vampira with a new actress for a new age. KHJ initially worked with Nurmi in the revival, primarily for the name recognition Vampira brought, but ultimately they couldn't come to terms on who the next horror goddess should be.
And so, without the Vampira name, Cassandra Peterson's Elvira was born. She being closer to my time, I was more familiar with her, but other than "Hey, boobs!" I was a little young to form any sort of emotional connection for her or her show. Same goes for the Crypt Keeper from Tales From the Crypt, mainly due to us not having HBO when I was growing up (but I love the movies!). Believe it or not, I'd have to say my favorite horror host is Joe Bob Briggs. I would stay up many nights with Monstervision on TNT, watching him sit on his trailer park lawn, listening to him list off how many explosions or dead bodies there were in the movie of the night, when I should have been catching some zzz's for school the next day.
Other horror hosts after her may have had more fame, more successful careers (particularly Peterson as Elvira), but none of them rocked the cultural boat like Vampira did. And sadly, that same culture that made her star rise so quickly shot it down just as fast; the show was canceled just one year after it started. (Nurmi had worked with KHJ-TV once before to bring her back as Vampira in 1956, but that was short-lived, only lasting a few months because of Nurmi's unwillingness to change the show into something more family friendly, possibly in a sitcom type of format—see pages 129 and 196–197 in Poole's book for more on this).
Before Maila donned the role of Vampira, as many hopeful actresses did (and do), she took jobs modeling. Just for fun, here's a a look at a few magazines spreads of Maila in her cheesecake modeling days. First, in Big Time Magazine, July 1951…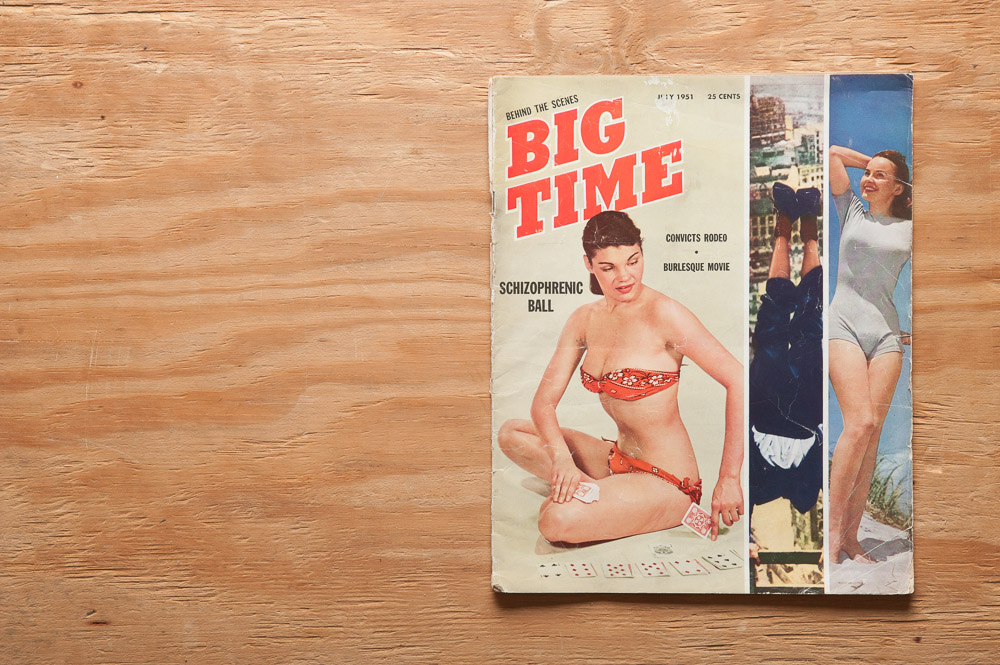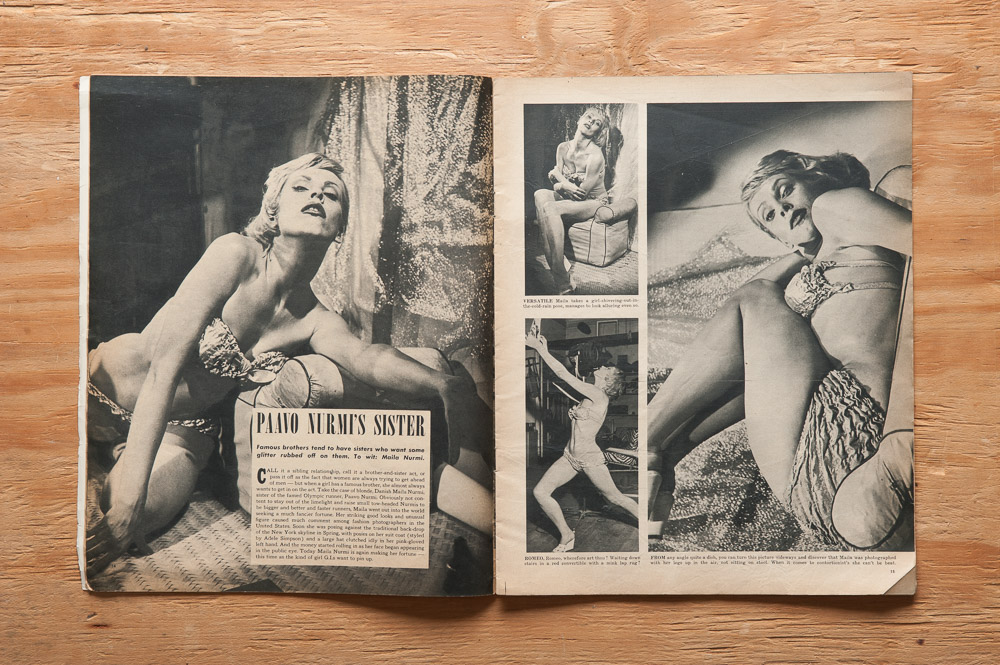 …and gracing the cover (and only the cover—oddly she doesn't appear anywhere else in the issue) of the first issue (April, 1953) of Rave Magazine, exactly one year before the debut of the show.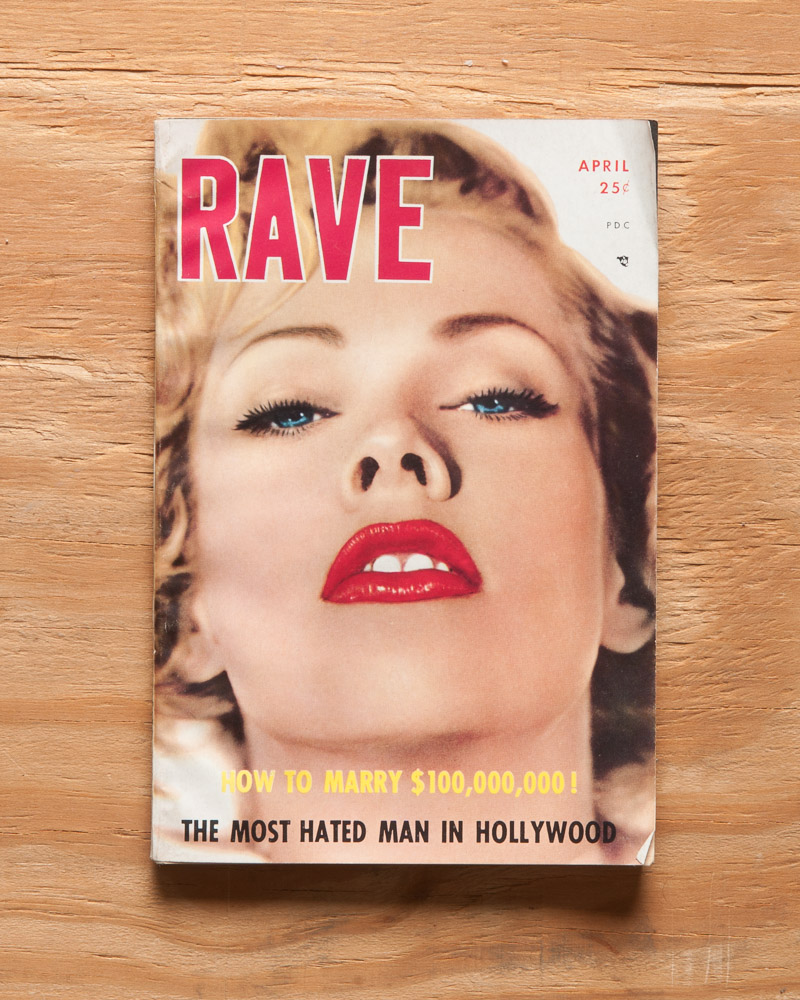 As best I can tell, this Rave cover image was part of a shoot that was previously published in another magazine, but I have yet to confirm this. (If anyone knows for sure, please let me know!)
The rest of her story, I'll leave for the book (and documentary—check them both out!).

(Non-Online) References

Poole, W. Scott. Vampira: Dark Goddess of Horror.
Vampira and Me. Dir. R. H. Greene. Cinema Epoch, 2013. Documentary.